Experience The Thomas Advantage and Take Advantage of Our Experience in The Security Services Industry!
Wherever you see the

throughout this website you'll find an element of the Thomas Advantage. These elements are what differentiate us from the rest of the industry. A quality security service provider since 1981, Thomas Protective Service, Inc. provides professional armed and unarmed uniformed security officers, unparalleled management and support to exceed our business partners' expectations. Our company is uniquely positioned as the pre-eminent, privately-held provider of uniformed security officer services. Led by seasoned executives, our security officers have a reputation for being professional, prepared, and responsive. Individual accountability and leadership are characteristics that are core to our company's culture.
Call Us Anytime, Day or Night. Experience the

Personal Touch of speaking with our own employees at our 24-hour Communications and Command Center. We are dedicated to providing exceptional, personalized service. Our Command Center Operators have access to a system that displays security officer information on dynamic screens: monitored clock in/out, GPS tracking of company vehicles, traffic information and delays, real time ETA's, and guard movements. They also have the ability to contact the local police department and communicate an emergency if necessary. Rest assured that you are not just provided a security officer, but a whole team that is ready to respond to your needs. 972-962-3686
why hire a TPS security officer?Here Are Some Reasons to Consider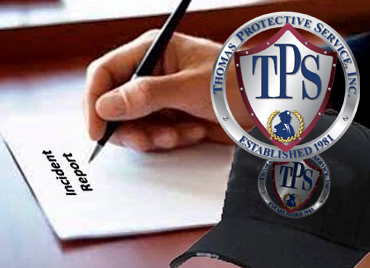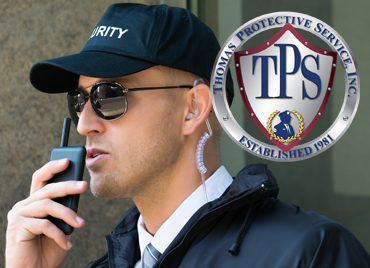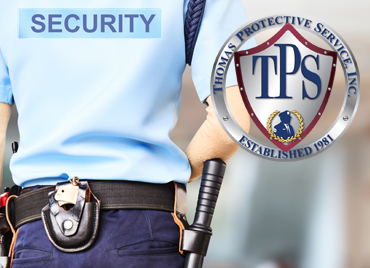 join our team of Security Professionals
Our rigorous hiring and selection standards, coupled with our comprehensive program of benefits and incentives, significantly enhances our ability to maintain a team of dedicated security professionals. Thomas Protective Service, Inc. fosters employee satisfaction and professional growth which ultimately results in satisfied clients.
Here are just a few of the benefits of working for Thomas Protective Service, Inc.:
1

Competitive Compensation We value our employees!

2

Advancement Opportunities Advance your career with us!

3

Achievement & Recognition We recognize and award professional service.
Established in 1981, Thomas Protective Service, Inc. is an American-owned and operated private security company providing quality security services and recognized as a professional firm with a reputation for excellence.